One of the most important aspects of construction, industry, and fabrication has always been welding, and today we at Wagner's Fabrication proudly offer more than 50 years of combined experience at all sorts of welding, ensuring that our clients are able to get the kind of service that they deserve.
Unlike other welders in and around Colorado, and the Colorado Springs area, we bring a unique, artful approach to each job. We specialize in smaller jobs and individual projects, and can help repair or fabricate almost anything you might need. We also handle the smallest jobs – we've taken care of the fabrication of medical instruments for decades and proudly help keep these intricate metal parts moving towards our clients each month.
Of course, we also understand that some welding jobs are larger and we also provide welding services on automotive or industrial metal fabrication, and more. Just because we know the special touches needed to handle the small jobs others won't tackle doesn't mean that we're not ready to help you with any of your other welding needs – no matter how large or small.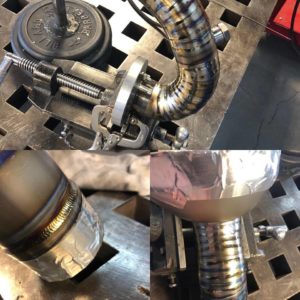 At Wagner's Fabrication, we've been providing Colorado and the Colorado Springs area with welding services since 1988. We proudly work on all types of metals and alloys, including:
Steel
Aluminum
Cast Aluminum
Titanium
Stainless Steel
Chromoly
Inconel
Magnesium
And more (Contact us if you do not see your required metal on the above list)
Each type of metal or alloy requires a different set of skills in order to effectively fabricate projects, and our team has more than 50 years combined experience in the welding industry. We can bring you the welding solutions that you need no matter how small or large projects might be, or what kind of materials we'll be working with. 
If you're in need of welding services, our team is here to help. We've been providing the Colorado Springs area with welding solutions since 1988, and are ready to help you as well. Contact us to get a consultation and to find out more about what we can do for you and your project.