Currently Serving Colorado and Texas
It's easy to assume that welding is a simple process, and in theory it is. But it takes years to truly master the art of welding, and that is even truer when it comes to precision TIG welding. Our team of certified welders has more than 50 years' experience providing precision TIG welding in Colorado Springs, and we service all areas in the mid-west and we take pride in our dedication to excellence. We have the expertise to do very small and detailed jobs others cannot do and have even tried with robotic machinery and failed. We are able to serve your needs anywhere in the US.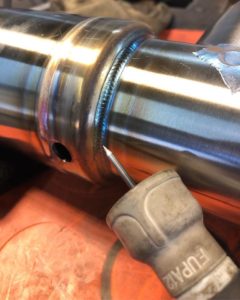 Our precision TIG welding team is able to work on the smallest, most detailed and intricate parts in order to fabricate medical or aerospace grade components and other specialized metal tools or products. The process is far more complex and advanced than other types of welding, and as a result it's something that only the best welders can provide. We currently specialize and are a leader in precision TIG welding for both medical and aerospace grade components. With a number of clients in the medical parts industry and expanding into the aerospace industry, we at Wagner's Fabrication are looking to expand and grow that side of our business. We would be happy to give your company a custom quote and discuss your job. See first hand our quality by calling us today! Take a look at our Online Portfolio.
Since 1988, we've been delivering welding excellence in Colorado Springs and the surrounding area, and that applies to our precision TIG welding services as well. We have now expanded into all areas of the midwest as we continue to expand our client base nationally. Each of our certified welders works with the best, most cutting-edge welding tools and technologies and applies the latest techniques to every job. This ensures that the results are of the highest quality, and our reputation for excellence is something that has helped us stand out in the region.
Small, detailed welding services are something unique in the field. And while we can handle nearly any welding job you may need taken care of, our ability to weld the smallest, most detailed instruments is what sets us apart as the team you can trust for any of your TIG welding needs.